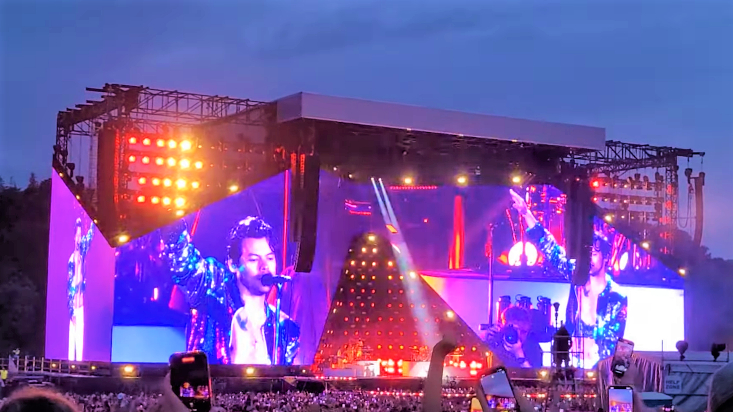 5,000 fans of British megastar Harry Styles recently used an app that allowed them to open a self-custodial wallet in which to keep their blockchain-based rewards.
The former One Direction member held a concert in Ireland on June 10. The sold-out show saw 80,000 attendees. 
All these people were invited to use the EVENTZ app, which is collaborating with the Web3 infrastructure company Co:Create. This partnership allows the fans to create their own wallets and receive rewards. 
The project uses an application programming interface (API) connected through the popular Ethereum (ETH) sidechain Polygon (MATIC). 
evntz-deliver-revolutionary-first-act-for-the-future-of-665f85616af8″>According to the announcement, 5,000 fans claimed their wallets through this official app, which saw 100,000 unique interactions. 
EVNTZ founder Kim O'Callaghan argued that "there's a huge disconnect for the customer when it comes to events. Whether they're going to one event or 100, they're treated the same — there's no rewards, loyalty, or community."
Per the team, EVNTZ can work closely with the promoters, venues, tours, and artists to build these three key things: the community, a rewards system, and loyalty for fans who attend most/all shows.
Web3 technology is the way to go, starting with self-custodial wallets, said the announcement. 
It further noted that, in the future, EVNTZ users may be able to claim self-owned rewards for buying tickets, engaging with social content (including digital memorabilia), buying merch, booking a ride home, and more.
And there is more to come, EVNTZ stressed. 
"Harry Styles was just the beginning for EVNTZ and their 2024 roster will be dropping soon with some of the biggest names in the world," it said.
Music Industry Jumping Into Web3 – And Vice Versa
Music and Web3 are no strangers. This year alone has seen a number of events developing at the merging point of the two industries.
In January, Web3 entertainment company Hume announced that it acquired Blocktones, a Web3 music startup founded by Grammy-winning producer Gino Borri and show designer and director Michael Mauro. This was meant to "bring Blocktones' open-sourced generative audio collections to the Hume platform, enabling new pathways for its virtual artists and novel ways for creators to create open-sourced music beats."
In February, online music streaming giant Spotify started testing a new playlist function made specifically for non-fungible tokens (NFTs) holders.
In March, Beatport partnered with Polkadot to launch Beatport.io, a digital collectible marketplace "bringing electronic music culture to Web3." The platform was set to enable record labels and artists to create and sell unique digital assets.
And just days ago, Warner Music Group and Polygon joined forces to launch a music accelerator program, aiming to fuel innovation by supporting developers and dapps on the Polygon network. 
____
Learn more:
– How and Why Are NFTs Changing the Music Business?
– How Music NFTs Could Disrupt the Music Industry
– 10 Best Crypto Wallets for Beginners in 2023
– 8 Best Non-Custodial Wallets for 2023 – The Complete List
Related Posts