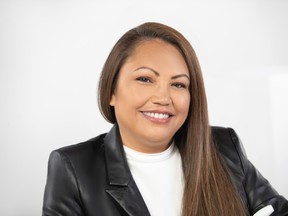 First Nations designer Alicia Stephens reimagines fashion with markers
The creator, whose collections have been shown on international runways including at New York Fashion Week, uses the everyday marker tool to create extraordinary designs.
Get the latest from Aleesha Harris straight to your inbox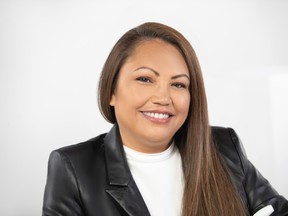 Reviews and recommendations are unbiased and products are independently selected. Postmedia may earn an affiliate commission from purchases made through links on this page.
Article content
In 2012, Alicia Stephens recalls being basically unemployed.
Article content
During the downtime, the lifelong artist decided to lean into drawing as a creative outlet, pushing the boundaries of her art by taking it beyond paper or canvas to something a little more unique.
Article content
"I had pulled out one of my old shoes from my closet and I was like, you know what? This would look so cool with a design on it," Stephens recalls. "So, I just started with a Sharpie on this wedge heel. And I posted it on Facebook, and it just went crazy viral."
Inspired by the reaction her artfully decorated shoes inspired, she created a Facebook page for her repurposed fashion pieces called Alicia's Designs.
"And I've just been doing it ever since," she says.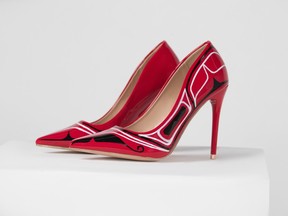 Speaking from her studio in Vancouver, Stephens explains how her Indigenous culture influences each design.
Article content
"I use a basic form line art that has been in my culture for thousands of years. And I kind of updated it into a modern flair," says Stephens, who grew up in the Nuu-chah-nulth (Ahousaht) and Kwakwaka'wakw (Alert Bay) Nations on Vancouver Island before moving to Vancouver two decades ago.
Creating three pieces a day using Sharpie Oil-Based Paint Markers — Stephens says the markers help to save time because they're quicker drying than other paints — the artist and designer selects her pieces based on those that will best present her work. 
"Everywhere I look, I always see my artwork — on a wall, on a car. Everything I see is artwork," Stephens says. "I like to choose pieces that have lots of room for artwork, where it has no buckles, no pockets, nothing in the way, where all you can see is just the artwork.
Article content
"I add it to modern pieces such as purses, shoes, accessories, jewelry — everything."
Stephens started with fashion items because she felt there was a niche in that area that had yet to be explored.
"I really love working outside the box. I love creating different things that people haven't seen before," Stephens says. "When I started, I had never seen it. I was the first one in it. Nowadays, a lot of artists have come out and they're using all these different mediums for their artwork, like murals, fashion, you know, famous shoes and all that stuff."
Among her most popular creations are those that merge her form line drawing with designer brands such as a Coach handbag and wallet or Michael Kors luggage sets, which she sells through her Facebook page to her more than 45,000 followers along with on her website, Aliciasdesigns.ca.
Article content
"I started out with some designer stuff just for the quality of the purses. And it just kept going because people kept wanting more," Stephens says.
"I hope, one day, to be able to collaborate with a big designer," she adds with a smile. "Hopefully."
While she used to offer custom art applied to a piece of a customer's choosing, Stephens says she's stopped that service because it became too difficult to manage the creative control.
"It just became a lot of work with the customer wanting different pieces with my artwork on it. And I couldn't see my artwork on it," Stephens explains. "So, the only way now that I can keep my creativity flowing is when I choose a piece and then when I see the piece, I visually see it in my head, the artwork on there. And that's when I select a piece and then I paint it and then I sell it."
Article content
Working as a full-time artist/designer now for more than a decade, Stephens admits that she never imagined that first playful application of her art on an old shoe would see her become a designer whose work has been shown on the runway at New York Fashion Week. Her first runway show at the international fashion event was in 2019.
"Never, ever," Stephens says. "When I was eight years old, the No. 1 thing I wanted to be when I grew up was a First Nations artist. And I had no idea how that could happen. I just didn't know.
"So, the fact that I am able to do this every day as a job that's my passion is just mind blowing. And I wake up every day excited."
---
Summer subscription sale: Our in-depth journalism is possible thanks to the support of our subscribers. For a limited time, you can get full online access to the Vancouver Sun and The Province, along with the National Post and 13 other Canadian news sites, for just $40 for one year or $1 a week for 52 weeks. Support our journalism by subscribing today: The Vancouver Sun | The Province.
Related Posts