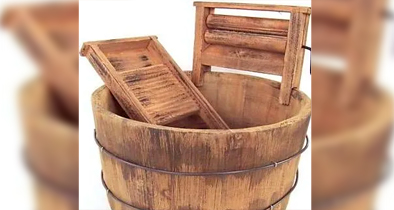 From a dear friend, Susan Nethercote, we have Grampa's Spaghetti Sauce! This comes from her own family documentary, The Jones-Morris Family Treasury (contributed to and compiled by the family). Grampa was officially Henry Ernest Morris (alias Grampa).
Hawaiian Chicken comes from The Jones-Morris Family Treasury. Connie Polanshek uses one broiler or four boneless breasts, pineapple chunks, and coconut. Her recipe is below.
Baked mashed potatoes is a terrific recipe from Barbara McHale that we found in the Apopka Historical Society's Preserving the Big Potato.
A delightful recipe from Southern Living's All-Time Favorites is Crispy "Fried" Onion Rings. They are fried for only a minute or so, then finished in the HOT oven. There is also a version for Beer Battered "Fried" Onion Rings. Who doesn't love onion rings?
Lillian Cleghorn's (delicious!) German Chocolate Pound Cake calls for a box cake and can of frosting. It's super easy, and the icing is in the cake! This comes from Northside Baptist Church's cookbook.
We have a recipe for washing clothes from Judy Quimby that we ran across in Northside Baptist Church's recipes booklet, shared among their members. She says, years ago an Alabama grandmother gave the new bride this recipe. This is an exact copy as written and found in an old scrapbook – with spelling errors and all. It is at the end of this article. (Excuse me while I count MY blessings!)
GRAMPA'S SPAGHETTI SAUCE
Henry Ernest Morris, alias Grampa
Recipe from
The Jones-Morris Family Treasury
1-1/2 pounds hamburger
4 onions, chopped
1 can of water at beginning
2 (1-pound) cans whole tomatoes,    chopped fine (Grampa uses
   the can top)
1 can tomato paste
1 tablespoon A1 sauce, or
Worcestershire, according to taste
Tabasco, according to taste
   (Grampa use a whole lot!
   It's very hot.)
1 clove garlic, minced
Herbs: Oregano, parsley flakes, and
Salt, pepper – all according to taste
Cut up one section of garlic, add oregano, a few parsley flakes, salt, pepper. Add to sauce, stir good, and put on low to simmer for about 3-4 hours.
One hour before dinner, cut up 4 onions finely and fry for about 1/2-hour, turning often, over a low heat. Put onion into sauce. Fry up about 1-1/2 pounds of hamburg. Turn hamburg in fry pan until brown, about five minutes. Add all to sauce. Simmer for additional hour and serve. Plenty for 6-8 servings. (Add 1 can of water to sauce at the beginning.)
CONNIE POLANSHEK'S
HAWAIIAN CHICKEN
Recipe from
THE JONES-MORRIS FAMILY TREASURY
1 broiler chicken, quartered
   (or 4 boneless breasts)
1 onion, diced
1 garlic clove
1 can pineapple chunks
3 tablespoons light soy sauce
1 bay leaf
1/2 cup coconut
1 cup water
2 tablespoons cornstarch
1/4 cup cold water
1 diced green pepper
½ cup sliced celery
2 medium tomatoes peeled
   and cut up
Rice
Fry chicken in small amount of oil. Remove from pan, put aside. Add onion and garlic, and fry until cooked. Drain syrup from pineapple chunks, add syrup to onion and garlic. Return chicken to pan. Add soy sauce, bay leaf, coconut, and water. Cook 30 minutes. Mix cornstarch with 1/4 cup water. Stir quickly into chicken mixture. Finally, stir in pineapple chunks and vegetables.
Simmer 10 minutes. Serve over rice.
FRANCES MCHALE'S
BAKED MASHED POTATOES
Recipe from Apopka Historical
Society, Apopka, Florida
Preserving the Big Potato –
A Collection of Potato Recipes
6 to 8 potatoes, cooked until tender
Salt and pepper to taste
8 ounces cream cheese
8 ounces sour cream
1/4 pound butter
2 medium size onions (chopped)
Mash potatoes, adding salt and pepper to taste, cream cheese and sour cream. Mix together well and set aside. Using a skillet, sauté onions in butter until clear but not browned. Mix this into the potatoes and put in baking dish. Bake at 375 degrees for 30 minutes or until top is golden brown.
CRISPY "FRIED" ONION RINGS
Recipe from
Southern Living All-Time Favorites
1 large sweet onion
1/2 cup low-fat buttermilk
1/2 cup all-purpose flour
2 tablespoons olive oil
Vegetable cooking spray
1/2 teaspoon coarse kosher salt
Cut onion into 1/4-inch thick slices, and separate into rings. Select largest 12 rings, reserving remaining onion slices for another use.
Whisk together buttermilk and egg white in a small bowl until blended.
Dredge onion rings in flour; dip into buttermilk mixture, coating well. Dredge again in flour, and place on a baking sheet.
Heat 2 teaspoons oil in a 10-inch skillet over medium-high heat. Tilt pan to coat bottom of skillet. Add 4 onion rings to skillet, and cook 1 minute on each side or until golden. Wipe skillet clean. Repeat procedure twice with remaining onion rings and oil. Place fried onion rings on an aluminum foil-lined baking sheet coated with cooking spray.
Bake at 400 degrees for 3 minutes. Turn onion rings, and bake 3 more minutes. Remove from oven, and sprinkle with salt. Serve immediately.
BEER-BATTERED
"FRIED" ONION RINGS:
Prepare as directed through the first step. Reduce buttermilk to 1/4 cup, and whisk together with 1/4 cup light beer and 1 egg white. Proceed with the rest of the directions as directed. Makes 3 servings.
LILLIAN CLEGHORN'S
GERMAN CHOCOLATE POUND CAKE (ICING IN THE CAKE)
Recipe from Northside Baptist Church's cookbook
1 package (18.25 ounces)
   German Chocolate Cake Mix
1 (15-ounce) can Coconut-Pecan    frosting
4 eggs
1/2 cup oil
1 cup water
Preheat oven to 350 degrees. Grease and flour 12-cup tube pan or Bundt pan. Mix all ingredients (including the icing), with mixer, medium speed for 2 minutes. Pour into prepared pan and bake for 55 to 60 minutes. Remove from oven to wire rack and cool for 10 minutes. Invert onto serving plate and dust with powdered sugar.
NOTE: This makes a large cake. Be sure to use the large 12-cup pan. Everyone loves this moist and delicious cake.
WASHING CLOTHES RECIPE
Contributed by Judy Quimby
Recipe from
NORTHSIDE BAPTIST CHURCH
Build fire in backyard to heat kettle of rain water. Set tubs so smoke won't blow in eyes if wind is pert. Shave one hole cake of lie soap in boilin water. Sort things, make 3 piles. 1 pile white, 1 pile colored, 1 pile work britches and rags. To make starch, stir flour in cool water to smooth, then thin down with boiling water. Take white things, rub dirty spots on board, scrub hard, and boil, then rub colored, don't boil just wrench and starch. Take things out of kettle with broom stick handle, then wrench, and starch. Hang old rags on fence. Spread tea towels on grass. Pore wrench water in flower bed. Scrub porch with hot soapy water. Turn tubs upside down. Go put on clean dress, smooth hair with hair combs. Brew cup of tea, sit and rock a spell and count your blessings.
Paste this over your washer and dryer. Next time when you think things are bleak, read it again, kiss that washing machine and dryer, and give thanks. For you non-Southerners – wrench means rinse.
Memories … Such sweet memories
Related Posts