"They put me in high heels," she said. "They had not established my outfit yet, and they insisted that I was wearing heels."
Sarah Hyland is opening up about some not-so-fond memories she has of filming Modern Family.
While talking with Jesse Tyler Ferguson on his Dinner on Me podcast, Hyland opened up about working on the show amid her health struggles.
"I was always focused on essentially just surviving and knowing my lines and being there 100 percent when they yelled 'action' — and then immediately collapsing when they yelled 'cut,'" recalled Hyland, 32.
Hyland, who was born with kidney dysplasia and has opened up about having several transplants in the past, opened up about a time that she was forced to wear heels despite having "excruciating pain" from gout, a product of her kidney problems.
Ferguson noted a specific episode in which she was in an "intense amount of pain" while their characters had to push a car.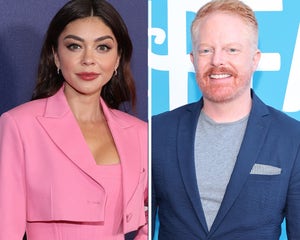 Getty
Jesse Tyler Ferguson Was Actually Sarah Hyland's Last Minute Replacement for Wedding Officiant

View Story
"I had gout!" said Hyland. "I was on dialysis… it was wild."
"They put me in high heels," she said. "They had not established my outfit yet, and they insisted that I was wearing heels."
Despite the struggles she endured on set, Hyland still thanked Ferguson for his support.
"I just want to let you know how appreciative I am for that," she told her co-star.
Hyland was born with kidney dysplasia — a condition where the kidneys don't develop normally while in the womb — but over the past two years she was also diagnosed with endometriosis and suffered from an abdominal hernia.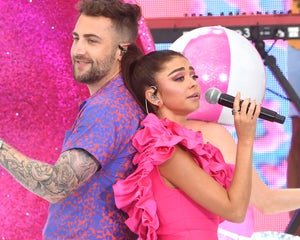 Getty
Sarah Hyland's Body Positivity Message After Showing Post-Kidney Operations Figure at Teen Choice Awards

View Story
In October 2017, years after Hyland's first kidney transplant where she received the new organ from her father, her body began to reject the kidney. Despite everything they did to "save" the kidney, it still wasn't functioning properly. As a result, Hyland went on dialysis, which caused many physical side effects including weight loss.
"When a family member gives you a second chance at life, and it fails, it almost feels like it's your fault," she opened up hyland">to Self Magazine. "It's not. But it does."
"I was very depressed," she added. "For a long time, I was contemplating suicide. I had gone through 26 years of always being a burden of always having to be looked after, having to be cared for because I've always had health issues."
However, the dialysis wasn't enough. The transplanted kidney had to be removed and she needed a new one. In Summer 2017, they found a match — her younger brother, Ian.
"When a second family member, someone you're supposed to look after like a little brother, wants to give you a third chance at life," Hyland said through tears. "It's scary, because you don't want to fail them. I felt a lot of pressure to make sure that it was good."
Related Posts