In a remarkable turn of events, Abhishek Bachchan's latest cinematic endeavour, Ghoomer, has been receiving accolades not only from devoted fans and discerning critics but also from revered cricket veterans. The multi-talented actor, along with his co-stars Saiyami Kher and Angad Bedi, attended a special screening of the film, specifically arranged for differently abled children. This heartwarming occasion showcased Abhishek Bachchan's compassion as he engaged with the young attendees in endearing interactions.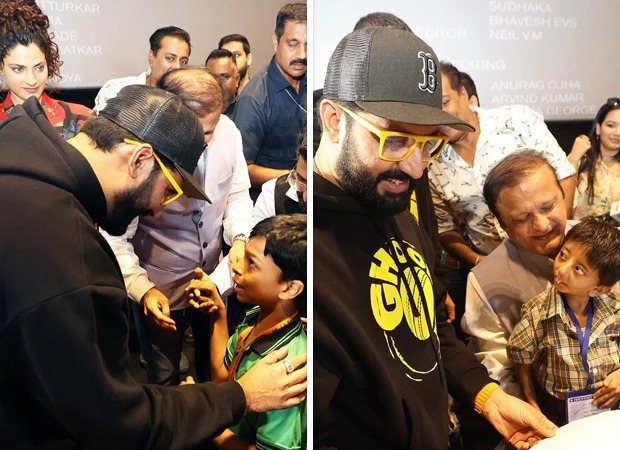 abled children to Ghoomer" width="620″ height="450″/
Abhishek Bachchan shares joyful responses of specially-abled children to Ghoomer
A highlight of the event was the striking camaraderie shared between the artists and the children. Abhishek Bachchan, who donned a custom-designed Ghoomer sweatshirt, complemented by grey trousers and a sleek black cap, effortlessly connected with the group. Saiyami Kher looked absolutely stunning in a vibrant red and black ensemble. Taking their commitment to inclusivity further, a prominent national multiplex chain orchestrated a special screening of Ghoomer exclusively for the Indian Deaf Cricket team. Both Abhishek Bachchan and Saiyami Kher, dressed in a black hoodie and stylish grey jeans, graced the occasion, demonstrating their dedication to fostering connection and inspiration. He generously shared these heartfelt encounters on his Instagram.
Ghoomer continues to transcend the boundaries of the silver screen, not only for its captivating narrative and stellar performances but also for its capacity to touch lives and bridge diverse communities. Ghoomer was a sports drama directed by R Balki. The film centres around the journey of a paraplegic woman, portrayed by Saiyami Kher, who emerges as a star bowler for the Indian cricket team under the guidance of her coach, Abhishek Bachchan. Alongside Abhishek and Saiyami, the movie also starred Shabana Azmi and Angad Bedi in pivotal roles.
Also Read: Amitabh Bachchan pens a heartfelt letter to Saiyami Kher for her performance
…
Read the rest