Today, ice cream cake is a ubiquitous part of birthday parties, summertime cookouts, and graduation celebrations. But the simple sweet treat, which delights kids and adults alike, has quite a past.
According to Tasting Table, the predecessor to the frozen cakes was an 18th-century English dessert called the trifle, which consisted of layered fruit, sponge cake, and custard. That custard was replaced with ice cream, sometime in Britain in the later years of the 19th century, according to Taste Atlas, and soon the beloved dessert had hopped the pond to America.
Today there are so many places offering ice cream cakes that it's hard to imagine they were ever a rarity. If you're in the mood for a dessert that merges two delightful desserts in every bite, then these are the seven best chains to consider when shopping for your next ice cream cake.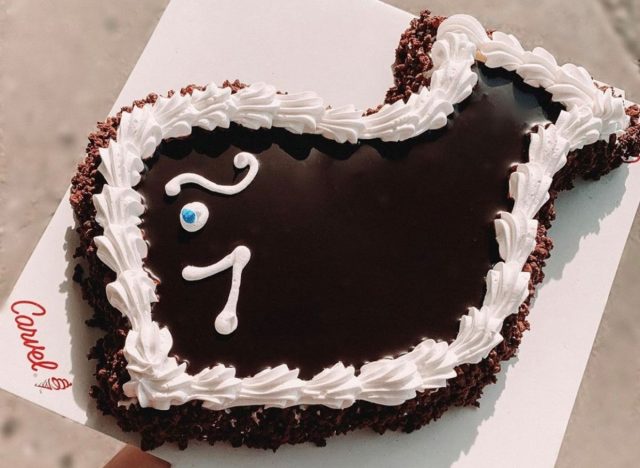 Carvel offers ice cream cakes for all sorts of occasions—from birthdays to holidays and everything in between. Its cakes can be customized and can even be created with edible photographs made using printed frosting.
Carvel's classic cakes are made with a base of chocolate ice cream, a layer of chocolate crunchies, and a layer of vanilla topped with frosting and various decorations. The chain also offers beloved favorites like Cookie Puss—a cake with a face made with cookie eyes and an ice cream cone nose—and Fudgie the Whale—a fudge-covered whale-shaped cake. You can also craft your own from scratch.
Note, too, that you don't necessarily have to visit a Carvel location to get an ice cream cake from the chain, as many grocery stores stock the company's cakes in their freezer aisles. The personalization will be
…
Read the rest