The school's old premises on Place Vendôme were too small to hold large exhibitions and after a three-year search, the new venue is opening in former offices of Van Cleef & Arpels, the Parisian jewellery house that has sponsored L'Ècole since its inception.
Nicolas Bos, president of Van Cleef & Arpels, enjoys the contrast between the mansion's discreet façade and the bling inside.
"This part of Paris," he notes, "is also associated with jewellery makers and stone merchants." As well, of course, with theatre, opera and the venerable auction house Drouot.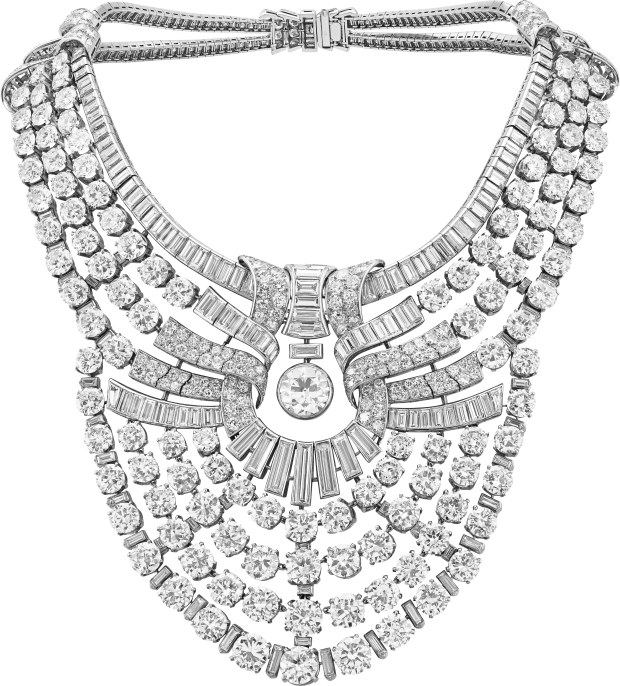 At L'Ècole, there are spaces to study gemology and other aspects of jewellery. Benches with microscopes now sit within high-ceilinged gilded salons. There are courses and podcasts on jewellery history as well as hands-on opportunities to explore the craft – its savoir-faire. There will be a serious library for researchers, a street-front bookshop, and dark blue galleries where treasures – genuine and theatrical fakes – glimmer out of the inky darkness.
The new, larger space, with elaborate ceilings similar in design to those at the nearby Palais Garnier, offers opportunities to show entire costumes and artworks depicting the displayed jewellery.
One large oil shows a painting of the tragic Greek princess Monime in Racine's Mithridate, who tried to strangle herself with her necklace. The offending item lies abandoned on the floor at the hem of her elaborate gold dress.
Exhibition creator Agathe Sanjuan is director of the Comédie-Française's museum. She explains that wardrobe became an established theatre profession only from the late 19th century; previously, to
…
Read the rest