Envirohub's latest initiative is helping reshape the fashion landscape as designers and innovators came together on Sunday night after 48 hours completing a sustainable fashion challenge.
With a growing awareness of the fashion industry's environmental impact, this unique competition turning second-hand garments into ready-to-wear outfits aims to harness creative brilliance in service of the planet.
Participants in the 48 Hour Second-hand Fashion Competition were tasked with curating, upcycling, and styling second-hand clothes and accessories into a fresh and fashionable, ready-to-wear outfit in 48 hours from Friday night to Sunday, creating an exciting new look out of recycled and repurposed textiles sourced from Turning Point Trust.
To add to the challenge, a decommissioned Wellington Zoo uniform shirt had to be incorporated into the new garment.
"They picked up the clothes on Friday and had until 5pm Sunday to complete the challenge," says Envirohub Community Coordinator Cathy Donnelly. 
"We opened our offices at 8am Friday and had a room of clothes and spare materials donated to us – buttons, threads, zips – so the idea is when they make the outfit there is nothing new in it.
"All the clothes are from Turning Point Trust at Tauranga Historic Village. The participants could choose as many items as they wanted but encouraged to only take what they knew they would use."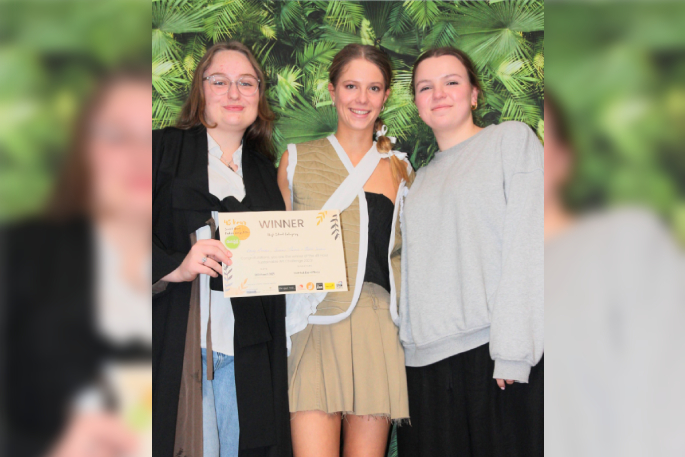 Emily Moodie, Jemima Thomas and Olivia Sanders won the high school category with a khaki outfit and white bag. Photo: Supplied.
Hundreds of uniforms and clothes go into landfill every day.
"They can't send those uniforms to charity shops because they are branded. The shirts are 100 per cent cotton so made of good stuff, but it highlights the waste we have."
Cathy says we need to change our attitude to always buying brand new clothing and see if we can recycle
…
Read the rest