Value chain analysis is a strategic analytical and decision-support tool that highlights the bases where businesses can create value for their customers. The framework can also be applied to identify sources of competitive advantage for businesses. Value chain is a set of consequent activities that businesses perform in order to achieve their primary objective of profit maximization.
Most sources explain the essence and application of value chain analysis assuming their audience is businesses aiming to increase the level of their competitiveness. Here, we adopt an alternative approach. Below is an explanation of value chain analysis for business students who have been assigned to apply this strategic analytical tool as part of assignment given by their educational institution.
The concept value chain analysis was introduced by Michael Porter in 1985[1] and its significance and relevance to strategic management and marketing has not diminished during 30 years of its existence.
The framework divides activities that generate value into two categories – primary activities and support activities. Primary activities comprise a set of activities that contribute to the creation of value in a direct manner. Support activities consist of functions and tasks that are intended to support primary activities.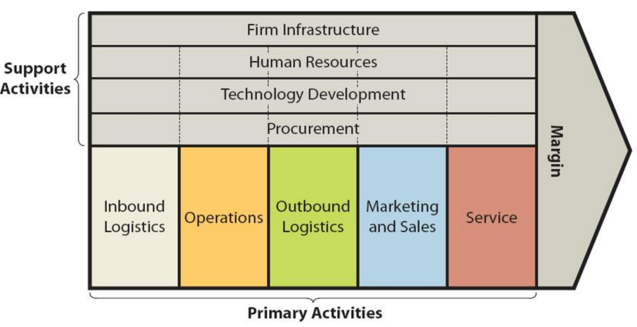 It is important to clarify that the relevance of value chain analysis is not limited to manufacturing businesses and the framework can be applied towards service firms as well.
Primary Activities
Inbound logistics involve receiving and storing raw materials and their usage in manufacturing as the necessity arises.
Operations relate to the processes of transforming raw materials into finished goods. For businesses operating in services sector operations relate to the process of providing the service.
Outbound logistics is associated with warehousing and distribution of finished products.
Marketing and sales refer to the choice and implementation of marketing strategy to communicate the marketing message
…
Read the rest